Extracorporeal Shockwave Therapy (ESWT) in Singapore
What is Shockwave Therapy?
Shockwave therapy, also known as Extracorporeal Shockwave Therapy (ESWT) is a physiotherapy treatment performed to relieve acute or chronic pain and encourage the body's healing process at the molecular level.
This non-surgical treatment produces an inflammatory response in the body and increases metabolic activity around the site of pain. This stimulates and accelerates the body's healing process. Shockwaves break down scar tissue and possibly calcification.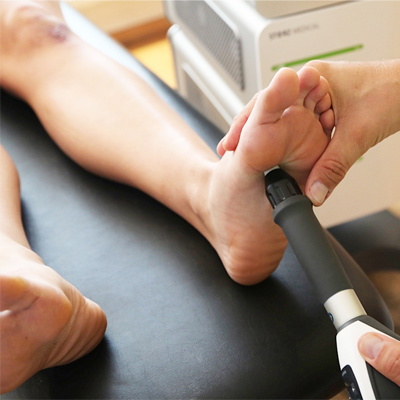 How Does Shockwave Therapy Work?
Shockwaves are generated by a projectile that is fired at speed inside a hand-held applicator. When the applicator is placed on the surface of the skin with a coupling medium such as ultrasound gel, the impulses are delivered as a shockwave that penetrates the affected area as an aspherical "radial" wave.
What Common Conditions Are Suitable For ESWT Treatment?
Plantar Fasciitis
Frozen Shoulder
Plantar Fasciosis (strained arch)
Heel Spurs
Tennis Elbow
Morton's Neuroma
Calcific Rotator Cuff Tendinitis
Achilles Tendinopathy
Tendonitis
Trigger Point Therapy
Jumper's Knee
Trochanteric Tendonitis
Is Shockwave Therapy Painful?
The patient may experience some discomfort during the session depending on their existing pain tolerance levels and the condition of the area being treated. ESWT sessions are usually short in length and the intensity of the treatment can be adjusted throughout the session based on the patient's comfort levels.
What Should I
Do If I Am in Pain After The Treatment?
The shockwaves will trigger an inflammatory response, which is the body's natural process of healing. For this reason, avoid taking anti-inflammatory medications or applying ice packs. The pain should subside within 24 hours. Use Tylenol if necessary, provided you have no allergic reactions to this medication. You are still recommended to decrease strenuous activities for 48 hours following the therapy.
What Is The Treatment Success Rate?
A successful treatment is considered as a patient having at least a 75% reduction in pain within 3 months. In Singapore and the rest of the world, success rates for shockwave therapy are between 80-90%.
If you are considering ESWT treatment, get in touch with our trained physiotherapists for a consultation on the best course of action for your condition. Feel free to check out our FAQs for more information.